Become a Patron!
True Information is the most valuable resource and we ask you to give back.
Schröder neben der Limousine des russischen Präsidenten: Putins Wagenkolonne fährt am Jussupow-Palais in der einstigen Zarenhauptstadt vor.
Links der dicke Mann ist Matthias Warnig
Warten auf Wladimir Putin: Die Nord Stream AG gibt zu Ehren von Altkanzler Gerhard Schröder (M.) in St. Petersburg einen Empfang.
Innige Umarmung unter Freunden: Altkanzler Gerhard Schröder lacht, als ihn Putin begrüßt.
Putin und Schröder Seite an Seite: Der Altkanzler ist Vorsitzender des Aktionärsausschusses der Nord Stream AG.
Eine Stasi-Karriere
Der Altkanzler als Aufsichtsrat und die Stasi-Akte des deutschen Pipeline-Chefs Matthias Warnig, der mit ihm bei Putins Gazprom im Vorstand arbeitet

---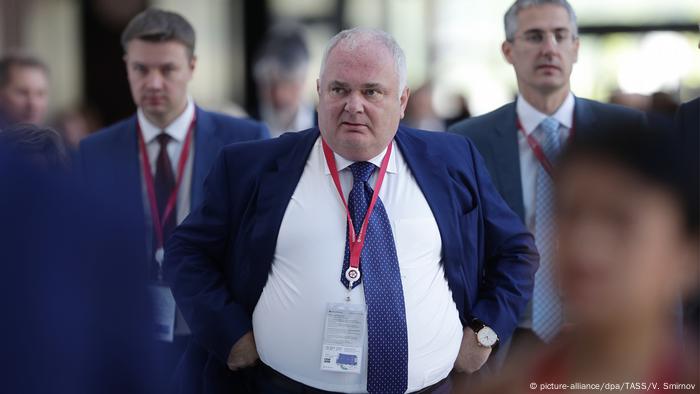 Der Genosse Warnig,1989 34 Jahre alt, hatte in den 80igern in einer der wichtigsten Abteilungen der Hauptverwaltung Aufklärung (HVA) des MfS gearbeitet. Er wurde noch 1989 von Mielke ob seiner "umsichtigen und initiativreichen Tätigkeit und hoher Einsatzbereitschaft" persönlich belobigt. Nun aber im neuen Deutschland erklimmt er mit Altkanzler Gerhard Schröder eine neue Karrierestufe: Er soll Vorstandschef des deutsch-russischen Konsortiums Nordeuropäische Gas-Pipeline (NEGP) werden – kontrolliert von einem Aufsichtsrat unter dem früheren Bundeskanzler Gerhard Schröder.
Mit Befehl Nr. K 3158 vom 7. Oktober 1989 war an Hauptmann Warnig die "Medaille für treue Dienste in der Nationalen Volksarmee in Gold" verliehen worden. Der Befehl trägt die Unterschrift von Erich Mielke, Minister für Staatssicherheit der DDR. Warnig kannte sich in der Energiewirtschaft der DDR bestens aus. Seine Decknamen stehen als "Ökonom" und "Arthur", bei der Bundesbeauftragten für die Stasi-Unterlagen in der Sira-Datenbank. Sie ist 71 Seiten stark. Als im Winter 1987 in der DDR teilweise das Licht ausging lieferte Experte Warnig "Analysen zum Betreiben von Braunkohlekraftwerken unter extremen Witterungsbedingungen". Aus dem Westen holte er im April 1987 einen Forschungsbericht des Kernforschungszentrums in Jülich und Programme der Bundesregierung zu Biotechnologie sowie technologische Dokumente zur "Energiegewinnung durch Pyrolyse". 1987 lieferte "Arthur" gar komplette Dokumente eines Seminars hochrangiger westdeutscher Wirtschaftsführer auf Schloß Gracht bei Erftstadt. Der "Wall Street Journal" berichtete, das der künftige Vorstandschef des deutsch-russischen Konsortiums ab 1988 in Düsseldorf als "Resident" (eine Art Regierungsvertreter der DDR) gearbeitet haben soll. "Arthur" wurde bei Mielke als "Residentur 1, BRD" geführt. Ansonsten wäre es ihm wohl auch unmöglich gewesen die Vielzahl seiner "Lieferungen" verdachtslos über die Grenze zu realisieren. So lieferte er auch Bohrmaschinenzeichnungen der Firma Hilti Deutschland, Berichte des TÜV Rheinland und Analysen aus dem Chemieanlagenbau. Im November 1988 lieferte er streng vertrauliches Material über "Schnellschlußschieber in Kernkraftwerken" der Kraftwerksunion (KWU) nach Ost-Berlin, die die Stasi sogleich dem Kernkraftwerk "Bruno Leuschner" in Greifswald zur Verfügung stellte. Heute leitet Warnig für die Dresdner Bank deren Rußland-Geschäft. Schon am 24. März 1987 lieferte er vertrauliche Informationen aus einem Gespräch mit der Dresdner Bank über die "Cocom-Bestimmungen" des RGW.
Kurz vor der Wende soll Warnig nach Dresden zurückbeordert worden sein, um mit dem KGB zu kooperieren. Gerüchte wollen Kontakte zu "Moskaus Mann in Dresden", Wladimir Putin, wissen. Nun also als Vorstandschef des deutsch-russischen Konsortiums Nordeuropäische Gas-Pipeline (NEGP) mit Sitz in Zug, dem schweizerischen Steuerparadies und unter Aufsicht von Gerhard Schröder.
Quelle: Eigenbericht nach Unterlagen der Bundesbeauftragten für die Stasi-Unterlagen
Matthias Warnig (born 26 July 1955) is a former member of the Stasi and currently the Managing Director (CEO) of the Nord Stream AG, a company for construction and operation of the Nord Stream submarine gas pipeline from Russia to Germany.
In 1974 Warnig started his career at the Stasi, the secret police of communist East Germany.[1][2]
Warnig allegedly worked with KGB agent Vladimir Putin. The two men collaborated on recruiting West German citizens for the KGB.[1] These allegations were denied by Matthias Warning saying that he met Vladimir Putin for the first time in his life in 1991, when Putin was the head of the Committee for External Relations of the Saint Petersburg Mayor's Office.[3][4]
Warnig had apparently spied on Dresdner Bank AG in West Germany before he began to work in the bank.[5]
Dresdner Bank attempted to get a banking operating license in Saint Petersburg, where Vladimir Putin was now in charge of foreign economic relations. Warnig took part in negotiations. The office was opened in 1991.[6][7] Warnig became Chairman of the Board of Directors of Dresdner Bank ZAO, Dresdner Bank Russian subsidiary. In 2004-05, the bank advised on the controversial forced sale of Yukos assets.[1]
References
External links