Become a Patron!
True Information is the most valuable resource and we ask you to give back.
The following is a collection of recent intelligence summaries for Operation United Assistance which is being conducted by U.S. Africa Command through U.S. Army Africa. The operation began in September and provides "coordination of logistics, training, and engineering support to the U.S. Agency for International Development (USAID) in West Africa to assist in the overall U.S. Government Foreign Humanitarian Assistance/Disaster Relief efforts to contain the spread of the Ebola Virus/Disease, as part of the international assistance effort supporting the Governments of Liberia, Sierra Leone and Guinea."

Updated November, 2014.
USACAPOC(A) CIM Ebola Updates
U.S. Army Civil Affairs Psychological Operations Command
Civil Information Management Cell Update 10-27-14
5 pages
Download
United Assistance Security Updates
Operation UNITED ASSISTANCE Security Update 10-22-14
2 pages
Download
Operation UNITED ASSISTANCE Security Update 10-15-14
2 pages
Download
Operation UNITED ASSISTANCE Security Update 10-8-14
4 pages
Download
Operation UNITED ASSISTANCE Security Update 10-1-14
3 pages
Download
ZIP archive of all updates

Download
(3.6 MB)
United Assistance Intelligence Summaries
UNITED ASSISTANCE INTELLIGENCE SUMMARY 11-1-14
3 pages
Download
UNITED ASSISTANCE INTELLIGENCE SUMMARY 10-31-14
4 pages
Download
UNITED ASSISTANCE INTELLIGENCE SUMMARY 10-30-14
4 pages
Download
UNITED ASSISTANCE INTELLIGENCE SUMMARY 10-29-14
5 pages
Download
UNITED ASSISTANCE INTELLIGENCE SUMMARY 10-28-14
6 pages
Download
UNITED ASSISTANCE INTELLIGENCE SUMMARY 10-26-14
5 pages
Download
UNITED ASSISTANCE INTELLIGENCE SUMMARY 10-25-14
2 pages
Download
UNITED ASSISTANCE INTELLIGENCE SUMMARY 10-24-14
4 pages
Download
UNITED ASSISTANCE INTELLIGENCE SUMMARY 10-23-14
3 pages
Download
UNITED ASSISTANCE INTELLIGENCE SUMMARY 10-22-14
2 pages
Download
UNITED ASSISTANCE INTELLIGENCE SUMMARY 10-21-14
3 pages
Download
UNITED ASSISTANCE INTELLIGENCE SUMMARY 10-20-14
4 pages
Download
UNITED ASSISTANCE INTELLIGENCE SUMMARY 10-19-14
2 pages
Download
UNITED ASSISTANCE INTELLIGENCE SUMMARY 10-18-14
2 pages
Download
UNITED ASSISTANCE INTELLIGENCE SUMMARY 10-17-14
4 pages
Download
UNITED ASSISTANCE INTELLIGENCE SUMMARY 10-16-14
3 pages
Download
UNITED ASSISTANCE INTELLIGENCE SUMMARY 10-15-14
4 pages
Download
UNITED ASSISTANCE INTELLIGENCE SUMMARY 10-14-14
4 pages
Download
UNITED ASSISTANCE INTELLIGENCE SUMMARY 10-13-14
4 pages
Download
UNITED ASSISTANCE INTELLIGENCE SUMMARY 10-12-14
3 pages
Download
UNITED ASSISTANCE INTELLIGENCE SUMMARY 10-11-14
3 pages
Download
UNITED ASSISTANCE INTELLIGENCE SUMMARY 10-10-14
3 pages
Download
UNITED ASSISTANCE INTELLIGENCE SUMMARY 10-9-14
4 pages
Download
UNITED ASSISTANCE INTELLIGENCE SUMMARY 10-8-14
4 pages
Download
UNITED ASSISTANCE INTELLIGENCE SUMMARY 10-7-14
3 pages
Download
UNITED ASSISTANCE INTELLIGENCE SUMMARY 10-6-14
4 pages
Download
UNITED ASSISTANCE INTELLIGENCE SUMMARY 10-5-14
4 pages
Download
UNITED ASSISTANCE INTELLIGENCE SUMMARY 10-3-14
5 pages
Download
UNITED ASSISTANCE INTELLIGENCE SUMMARY 10-2-14
5 pages
Download
UNITED ASSISTANCE INTELLIGENCE SUMMARY 10-1-14
8 pages
Download
UNITED ASSISTANCE INTELLIGENCE SUMMARY 9-30-14
5 pages
Download
UNITED ASSISTANCE INTELLIGENCE SUMMARY 9-29-14
5 pages
Download
UNITED ASSISTANCE INTELLIGENCE SUMMARY 9-28-14
4 pages
Download
UNITED ASSISTANCE INTELLIGENCE SUMMARY 9-27-14
3 pages
Download
UNITED ASSISTANCE INTELLIGENCE SUMMARY 9-25-14
5 pages
Download
UNITED ASSISTANCE INTELLIGENCE SUMMARY 9-24-14
4 pages
Download
UNITED ASSISTANCE INTELLIGENCE SUMMARY 9-23-14
4 pages
Download
UNITED ASSISTANCE INTELLIGENCE SUMMARY 9-22-14
4 pages
Download
UNITED ASSISTANCE INTELLIGENCE SUMMARY 9-21-14
3 pages
Download
UNITED ASSISTANCE INTELLIGENCE SUMMARY 9-20-14
4 pages
Download
UNITED ASSISTANCE INTELLIGENCE SUMMARY 9-19-14
5 pages
Download
UNITED ASSISTANCE INTELLIGENCE SUMMARY 9-18-14
3 pages
Download
ZIP archive of all summaries

Download
(23.7 MB)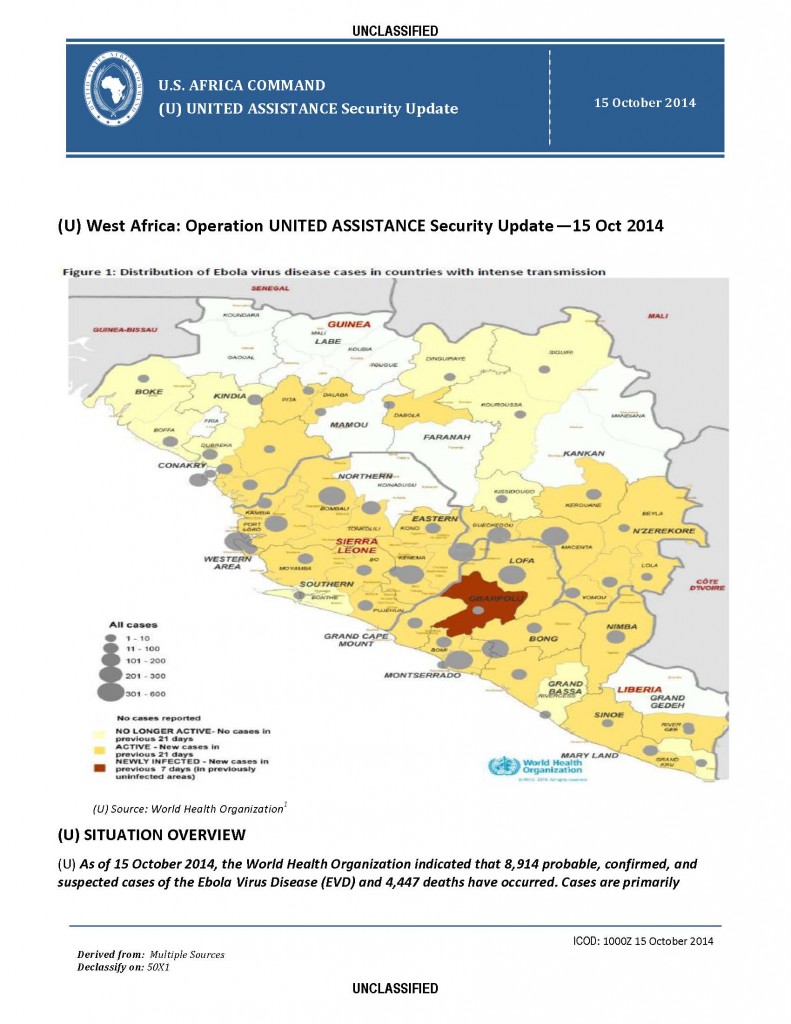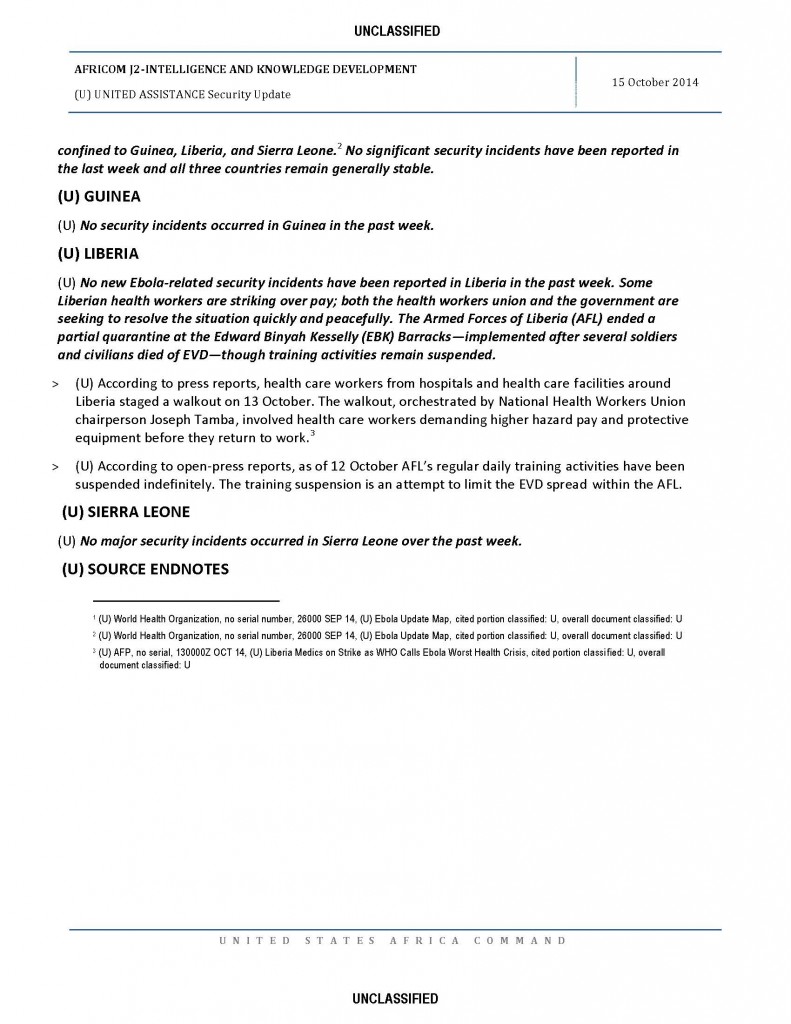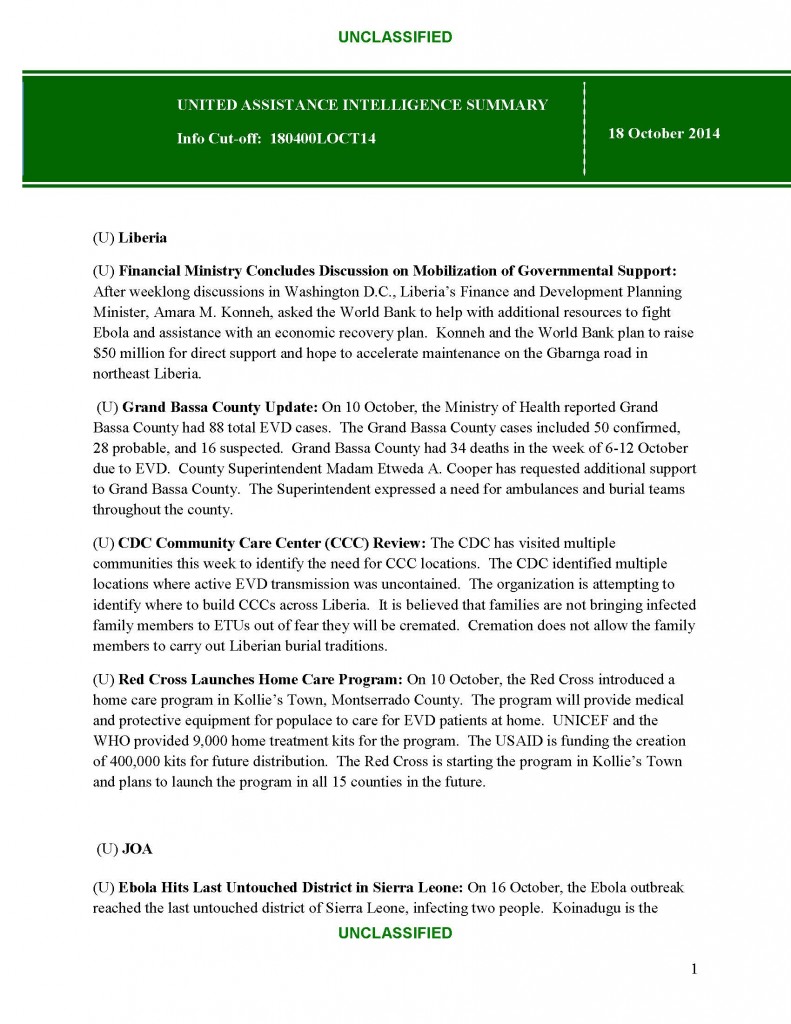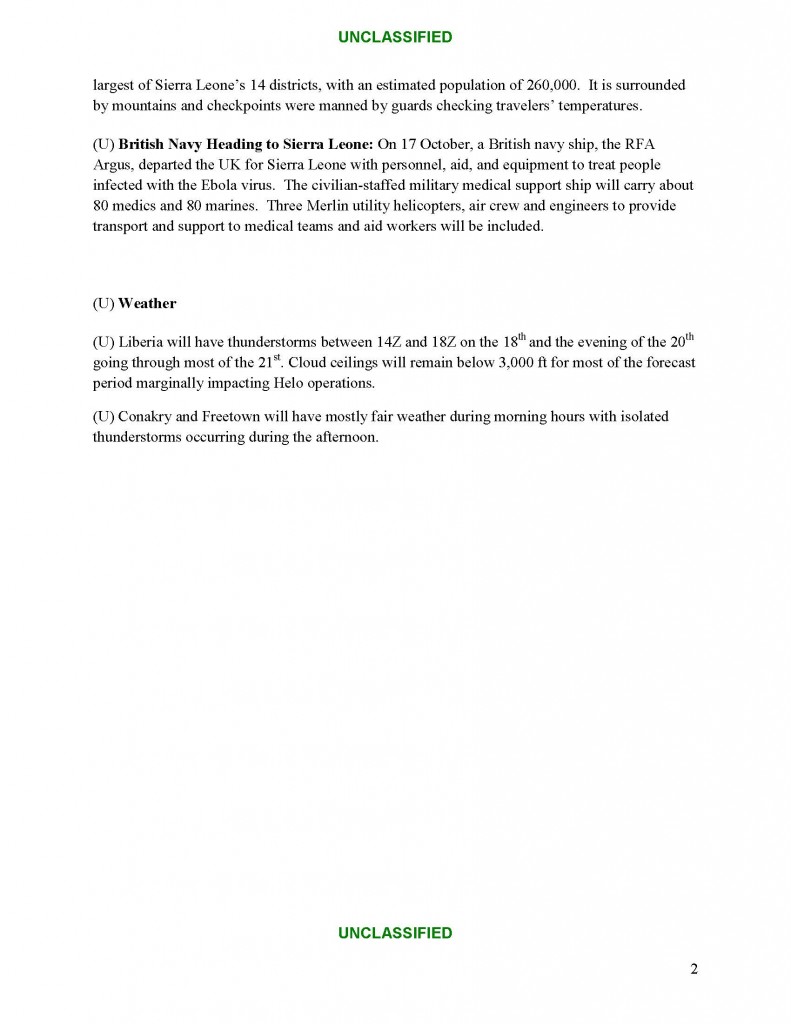 Share this: