SUPPORT US AND Become a Patron!
True Information is the most valuable resource and we ask you to give back.
THE ONLY WEBSITE WITH THE LICENSE TO SPY!
🚨 FOLLOW US ON TELEGRAM & GAB FOR EVEN MORE ABOVE TOP SECRET INFOS & DOCUMENTS
https://t.me/ABOVETOPSECRETXXL
https://www.bitchute.com/channel/R55w1IXstR3h/
https://www.youtube.com/channel/UCdoKPR_qNWDyJwtCK484A6A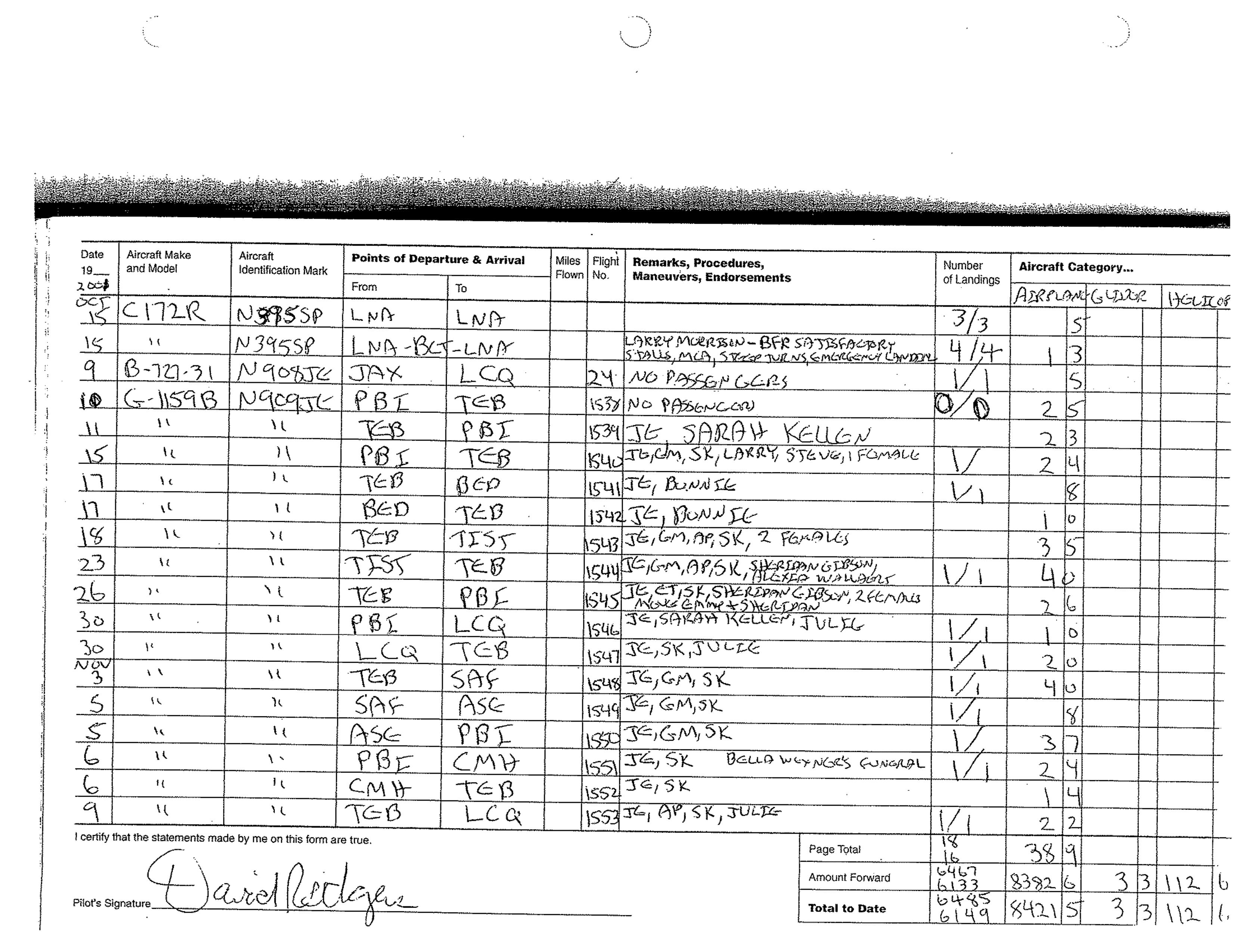 Epstein's Private Jet Flight Manifest page 69
The following passengers are found on this page:
10/9/2001
JAX 🡒 LCQ
Passenger (0)
10/10/2001
PBI 🡒 TEB
Passenger (0)
10/11/2001
TEB 🡒 PBI
Jeff Epstein; Sarah Kellen
10/15/2001
PBI 🡒 TEB
Female (1); Jeff Epstein; Ghislaine Maxwell; Larry ?; Sarah Kellen; Steve ?
10/17/2001
TEB 🡒 BED
Bonnie ?; Jeff Epstein
10/17/2001
BED 🡒 TEB
Bonnie ?; Jeff Epstein
10/18/2001
TEB 🡒 TIST
A P; Jeff Epstein; Female (2); Ghislaine Maxwell; Sarah Kellen
10/23/2001
TIST 🡒 TEB
Alexia Wallert; A P; Jeff Epstein; Sheridan Gibson; Ghislaine Maxwell; Sarah Kellen
10/26/2001
TEB 🡒 PBI
Emmy Tayler; Jeff Epstein; Sheridan Gibson; Female (2); Sarah Kellen
10/30/2001
PBI 🡒 LCQ
Julie Shay; Jeff Epstein; Sarah Kellen
10/30/2001
LCQ 🡒 TEB
Julie Shay; Jeff Epstein; Sarah Kellen
11/3/2001
TEB 🡒 SAF
Jeff Epstein; Sarah Kellen; Ghislaine Maxwell
11/5/2001
SAF 🡒 ASE
Jeff Epstein; Sarah Kellen; Ghislaine Maxwell
11/5/2001
ASE 🡒 PBI
Jeff Epstein; Sarah Kellen; Ghislaine Maxwell
11/6/2001
CMH 🡒 TEB
Jeff Epstein; Sarah Kellen
11/9/2001
TEB 🡒 LCQ
Julie Shay; A P; Jeff Epstein; Sarah Kellen
THIS IS AN EXCERPT – YOU CAN DOWNLOAD THIS INFO IN FULL LENGTH UNREDACTED, OUR FULL VIDEOS, OUR FULL DOCUMENT AND MUCH MORE FOR FREE AT OUR TELEGRAM CHANNEL
https://t.me/ABOVETOPSECRETXXL