SUPPORT US AND GET EXCLUSIVE GIFT, REPORTS & DOCS Become a Patron!
True Information is the most valuable resource and we ask you to give back.
THE ONLY WEBSITE WITH THE LICENSE TO SPY!
🚨 FOLLOW US ON TELEGRAM & GAB FOR EVEN MORE ABOVE TOP SECRET INFOS & DOCUMENTS
https://t.me/ABOVETOPSECRETXXL
👉JOIN @ABOVETOPSECRETXXL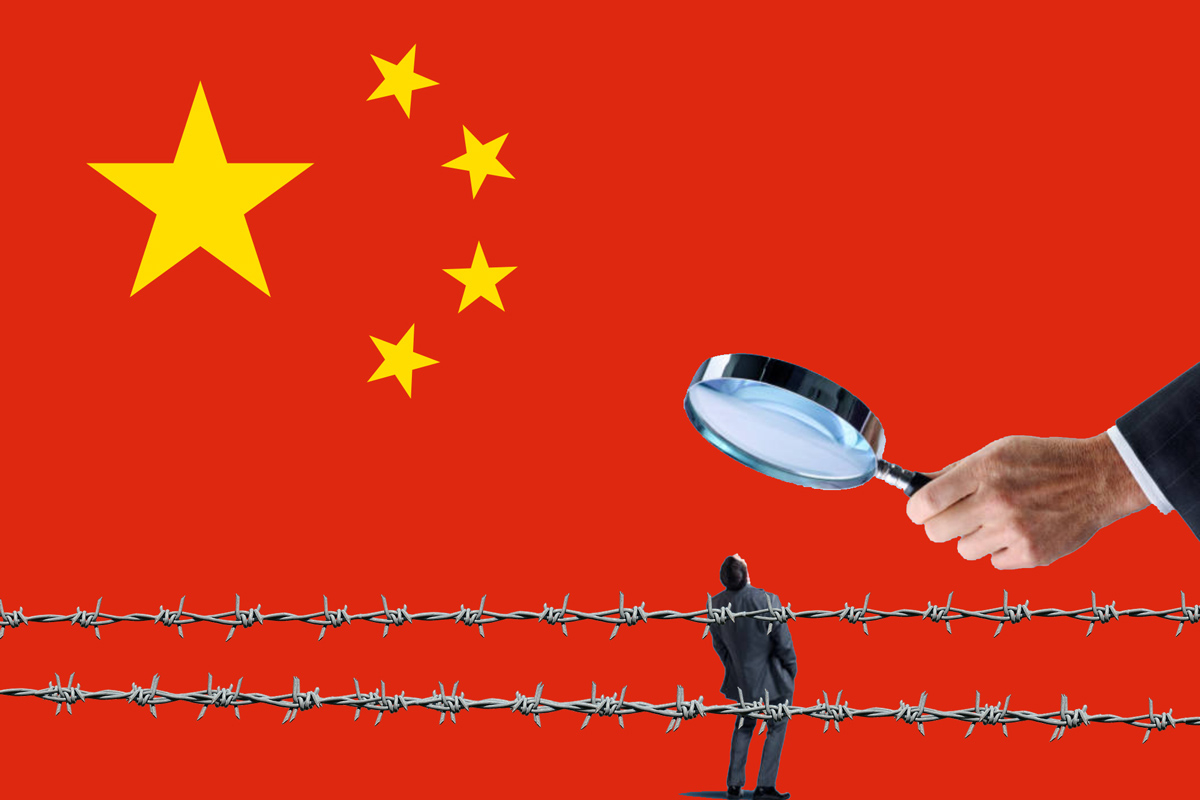 The tense relationship between the U.S. and China over Taiwan will be the main risk for Asia in the year ahead, according to one political risk analyst. Beijing sees any move by Washington on Taiwan as negative or infringing on its interests, said D.J. Peterson, president of Longview Global Advisors, a research firm. "That is very much the top risk, I think in Asia in 2022. If you look at the relationship between the United States and China right now, it really is a 'Cold War 2' type relationship," he told CNBC's "Streets Signs Asia" on Tuesday. Late last year, President Joe Biden signed into law a defense bill known as the National Defense Authorization Act (NDAA) for fiscal year 2022. Peterson said that has further eroded relations between the two countries.
China joins U.S. allies including Japan and Australia in a new Asia-Pacific trade agreement that launches Saturday—with the U.S. watching from the sidelines. The new Regional Comprehensive Economic Partnership, or RCEP, will eventually eliminate more than 90% of tariffs on commerce among its 15 member countries, in what economists say will be a boon to trade in the region. It will also give China a more prominent role in setting rules of trade in the Asia-Pacific region at the expense of the U.S., according to some analysts. "This will be a grouping of countries that will work together and try to develop new rules and new standards," said Wendy Cutler, vice president of the Asia Society Policy Institute and a former U.S. trade official. "[The U.S. is] moving in the other direction."China and the United States have reached a "stalemate" in the process to resume trade talks despite the expiry of their phase-one trade deal last week, with no clear indication from either Beijing or Washington of when the silence will be broken. A long-awaited new round of talks between China's chief trade negotiator, Vice-Premier Liu He, and U.S. Trade Representative Katherine Tai and U.S. Treasury Secretary Janet Yellen has yet to happen. Liu last met Tai and Yellen via separate video calls in October before the high-profile talk between Xi Jinping and U.S. counterpart Joe Biden in mid-November. "Now [China and the U.S.] are in a stalemate, since everyone is clear that the atmosphere for negotiations has not formed yet," said Huo Jianguo, the former head of a think tank under China's Ministry of Commerce.
China could retain its tight border restrictions for the whole of the year as it prepares to host the Winter Olympics and a series of political events in 2022, Goldman Sachs Group Inc. said. Reports that vaccines made by domestic firm Sinovac Biotech Ltd. offer limited protection against the omicron variant will likely reinforce China's resolve to stick with its Covid Zero strategy, analysts led by Andrew Tilton wrote in a note Tuesday. China is one of the few countries in the world that's still committed to the Covid Zero approach, while many others have shifted toward living with the virus.At least 14 million people in China are living under total lockdown, as the country persists with a strict "zero-tolerance" COVID policy ahead of the Lunar New Year holidays and the Beijing 2022 Winter Olympics. Public health officials are taking no chances amid a rise in infections across the country, bringing China's seven-day average cases above 200 for the first time since March 2020. Two cities are now experiencing a form of full lockdown not seen since the early days of the pandemic, when the former epicenter, Wuhan, in the central Hubei province, was shut down for 76 days. On Monday, the 1.1 million residents of the city of Yuzhou, in central Henan, were told to remain in their homes following the discovery of three asymptomatic coronavirus cases. Public transport, schools, and all nonessential businesses have been shut.As the rest of the world has become resigned to strategies of mitigating the virus, China has stuck fast to a policy of attempting to completely cut off transmission as soon as new outbreaks emerge, an approach it calls "dynamic zero covid." That whack-a-mole strategy has been largely effective. The Chinese Communist Party's decision to make COVID-19 prevention a top priority spurred local officials to impose rapid and severe — but relatively targeted — lockdowns whenever infections appeared. In the past year, even larger outbreaks were limited to a few hundred cases. But the problems in Xian caused by the city's poorly managed, containment-at-all-costs approach are raising alarm about unacceptable human distress when the unyielding policy goes wrong.
Sweden has launched a new agency dedicated to defending the country against disinformation, propaganda, and psychological warfare in the latest part of its efforts to bring military and civil defense back towards Cold War levels. The official opening of the Swedish Psychological Defence Agency came on the same day that Finland's President Sauli Niinistö accused Russia of "challenging the sovereignty of several EU member states, including Sweden and Finland" by demanding security guarantees ruling out "Nato's further movement eastward." "Disinformation is a threat to Swedish democracy, our decision-makers and to our independence," Sweden's interior minister Mikael Damberg said at a press conference in October announcing the appointment of Henrik Landerholm, a former Vice-Chancellor for the Swedish Defence University, to head the agency.Russian President Vladimir Putin and Chinese leader Xi Jinping oversaw an ambitious joint military exercise in China this summer, which along with reported collaborations in aviation, undersea, and hypersonic-weapons technology point to a solidifying defense alignment, according to military analysts. U.S. officials and military specialists say it is difficult to pin down the level of collaboration between two nations that tightly control information, and whose actions are increasingly opaque to outsiders. But Western officials and defense experts are growing more convinced of the closer relationship based on recent economic alliances, military exercises, and joint defense development, as well as the few public statements from government leaders.The Chinese government, which has built an extensive digital infrastructure and security apparatus to control dissent on its own platforms, is going to even greater lengths to extend its internet dragnet to unmask and silence those who criticize the country on Twitter, Facebook, and other international social media platforms. These new investigations, targeting sites blocked inside China, are relying on sophisticated technological methods to expand the reach of Chinese authorities and the list of targets, according to a New York Times examination of government procurement documents and legal records, as well as interviews with one government contractor and six people pressured by the police.
Chinese bishops and religious leaders briefed senior Hong Kong Catholic clergymen on President Xi Jinping's vision of religion with "Chinese characteristics" in an unprecedented meeting organized by the mainland's representative office in the city, according to four clerics. The clerics, who attended or had knowledge of the October 31 meeting, described it as Beijing's most assertive move yet in its attempts to influence Hong Kong's diocese, which is answerable to the Vatican and includes some high-ranking leaders who have long been defenders of democracy and human rights in the semi-autonomous territory. While Hong Kong's Catholic leaders have met their mainland counterparts individually in the past, it was the first time the two sides had met formally — and the first time mainland religious officials had instigated such a meeting, the clerics said.Hong Kong's free press is on the brink of extinction after the two largest remaining independent news websites in the Chinese territory announced they were shutting down in the space of a week. Citizen News, an online news site founded in 2017, said it would cease operations on Tuesday, citing safety concerns for its reporters. The decision, which will diminish further the once freewheeling and aggressive Hong Kong press corps, was announced after pro-democracy publication Stand News closed last Wednesday. Stand News was raided by police and a number of journalists and former directors were arrested for allegedly publishing "seditious" materials. Chris Yeung, Citizen News chief writer, said the move to stop publishing was "triggered" by the arrests at Stand News. "Those who are seen as critical or trouble makers, they are more vulnerable," he said.National Security Police in Hong Kong on Wednesday arrested seven people associated with Chinese-language online media company Stand News. They include pop star-turned-pro-democracy activist Denise Ho. Later in the day, the publication dismissed all its staff and announced its immediate closure. It emerged that the police had seized HK$61 million ($7.8 million) of assets. "Police National Security Department conducted a search against an online media company in Kwun Tong with a warrant issued under Schedule 1 of the Implementation Rules for Article 43 of the Law of the People's Republic of China on Safeguarding National Security in the Hong Kong Special Administrative Region, authorizing Police to search and seize relevant journalistic materials. Over 200 uniformed and plainclothes police officers have been deployed during the operation," said the Hong Kong government in a press statement on Wednesday morning.
Lithuania's president said the government's decision to allow Taiwan to open a representative office using the island's name was a mistake, wading into a controversy that's upended the Baltic nation's relationship with China. The criticism by the head of state, Gitanas Nauseda, opens a rift in the country's leadership after tensions between China and Lithuania triggered a high-level trade dispute between Beijing and the European Union. Taiwan opened the office in the capital, Vilnius, in November under the name of Taiwan, a move viewed by the Chinese government as a violation of its one-China principle. Nauseda, who oversees foreign policy and represents Lithuania at EU summits, said both Lithuania and Taiwan are free to open representative offices that hold no diplomatic status and regretted that "the name of the office has become the key factor that now affects relations with China."The Lithuanian government is considering an aid package worth 130 million euros ($147m) to support businesses impacted by the Baltic country's spat with China. An initial 6 million euros has been allocated to companies from the European Regional Development Fund due to "the geopolitical tensions and the problems businesses are facing in China today, especially exporting businesses," Finance Minister Gintare Skaiste told the cabinet, BNS news service reported on Wednesday. Lithuania says China has applied "unannounced sanctions" on its companies after it allowed Taiwan to open a representative office in Vilnius in November. With a population of 2.7 million, Lithuania has emerged as a vocal opponent of China's policy toward Taiwan.Taiwan on Thursday vowed to take legal action against former ally Nicaragua for "seizing" its embassy and making plans to transfer it to China after the Central American country switched diplomatic recognition from Taipei to Beijing. According to Taiwan's foreign ministry, the Nicaraguan government "seized" its former embassy property that was already sold to the Roman Catholic Archdiocese of Managua. Nicaraguan President Daniel Ortega's government broke off relations with Taiwan this month, saying it would recognize only the mainland government. Before departing, Taiwanese diplomats attempted to donate the properties to the Roman Catholic archdiocese of Managua. But Ortega's government said on Sunday that any such donation would be invalid and that the building in an upscale Managua neighborhood belongs to China.
Electric car maker Tesla has been criticized in the U.S. after opening a showroom in China's controversial Xinjiang region. The company, headed by billionaire Elon Musk, opened the showroom in the city of Urumqi on New Year's Eve. However, the move has been welcomed by some in China. China has been accused of slavery and genocide against the Uyghur minority group in the resource-rich western region of the country. Republican Senator Marco Rubio, who sponsored a bill signed into law by President Joe Biden in December that requires firms to prove that goods imported from Xinjiang were not produced with forced labor, spoke out about Tesla's decision.Over the past year, Muslim organizations in the U.S., Canada, the UK, and elsewhere have become outspoken advocates for Uyghur Muslims, who are experiencing genocide at the hands of the Chinese government. Governments of many Muslim-majority countries have faced criticism for their silence in the face of China's repression, but Muslim citizens are organizing and speaking loudly about the issue. In September, more than 40 Muslim organizations in the U.S. and abroad announced a boycott of Hilton, after reports that a planned hotel in Xinjiang would be built atop a demolished mosque. "It's important that all American Muslims stand together in fighting this genocidal campaign," Robert McCaw, government affairs director at CAIR, said in an interview with Axios.China slammed Walmart after claims that it had removed products made in its Xinjiang region from Sam's Club. Shoppers in China had accused Walmart of removing the goods made in the Xinjiang province, where China has detained at least a million Uyghurs in prisons and detention camps, with many forced to labor in factories for little to no pay. A Sam's Club representative told Chinese analysts on a call last week that products from Xinjiang were not being deliberately removed, and called the accusations "a misunderstanding," Reuters reported. The representative said people couldn't find products from Xinjiang because users can't search the app for products based on where they are from, Reuters reported.
SOURCE: VICTIMS OF COMMUNISM
THIS IS AN EXCERPT – YOU CAN DOWNLOAD THIS INFO IN FULL LENGTH UNREDACTED, OUR FULL VIDEOS, OUR FULL DOCUMENT AND MUCH MORE FOR FREE AT OUR TELEGRAM CHANNEL
https://t.me/ABOVETOPSECRETXXL
👉JOIN @ABOVETOPSECRETXXL