Become a Patron!
True Information is the most valuable resource and we ask you to give back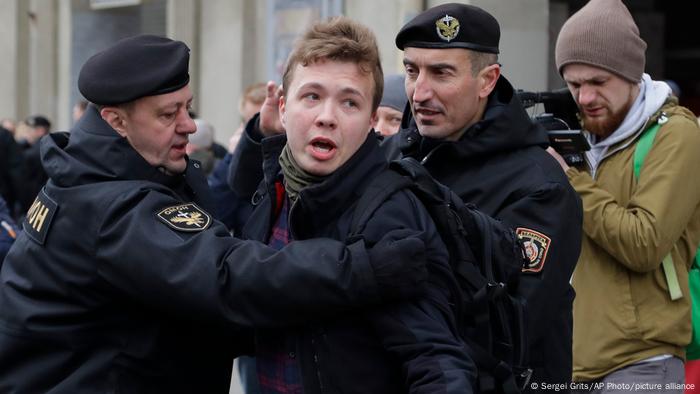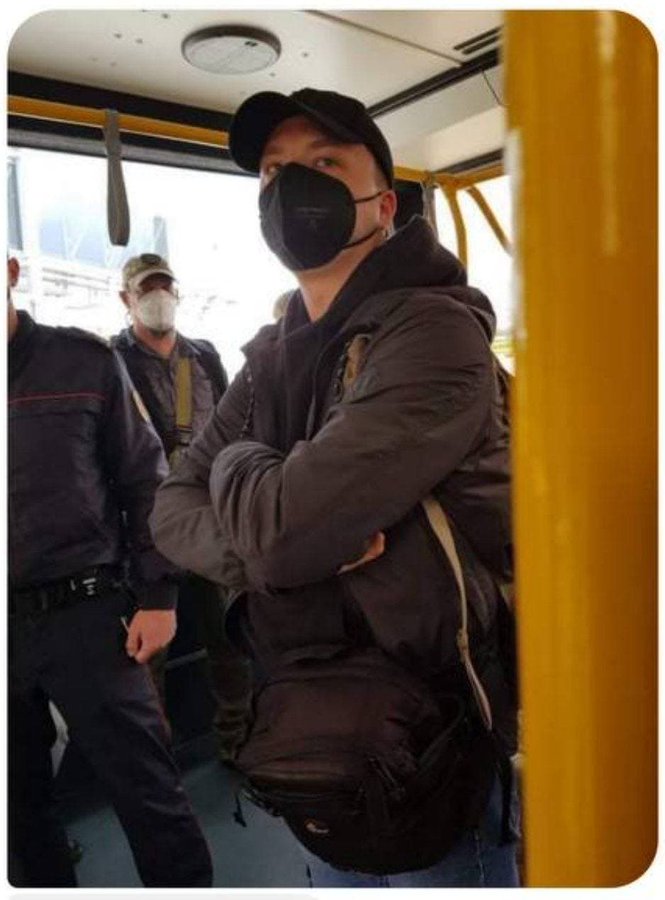 A guy sitting next to Roman Protasevich on the plane: "They took us out of the plane, the dogs sniffed our luggage. They took that guy (Roman) aside, threw his belongings on the runway. We asked him what's going on. He told me who he is and added, "They'll execute me here."
A Ryanair plane from Greece to Lithuania was diverted to Belarus for several hours on Sunday, with activists saying it was done to arrest a dissident journalist on board.
European nations reacted with outrage, accusing Belarus of "state terrorism".
Roman Protasevich
The ex-editor of the Nexta group, Roman Protasevich, was detained before the plane was allowed to resume its flight.
Belarus media said a MiG-29 escorted the jet to Minsk because of a bomb scare but no explosives were found.
The plane finally landed in the Lithuanian capital, Vilnius, its original destination, at 21:25 local time (18:25 GMT), more than seven hours after its scheduled arrival.
Arriving passengers said the situation in Minsk had been calm but that they were given no information. One said Mr Protasevich looked "super scared. I looked directly to his eyes and it was very sad".
There have already been calls for the EU and Nato to intervene.
UK Foreign Secretary Dominic Raab warned the "outlandish action" would have "serious implications".
Belarus opposition leader Svetlana Tikhanovskaya, who was beaten by Alexander Lukashenko in presidential polls last year widely denounced as rigged, was among those demanding Mr Protasevich's release.
Since August's election, 66-year-old Mr Lukashenko, who has ruled the country since 1994, has cracked down on dissenting voices. Many opposition figures have been arrested or, like Ms Tikhanovskaya, fled into exile.
Flight FR4978 was en route from Athens to Vilnius when it turned east to Minsk shortly before it reached the Lithuanian border. Greece and Lithuania put the number of passengers on board at 171.
In a statement, Ryanair said that the crew were "notified by Belarus (Air Traffic Control) of a potential security threat on board and were instructed to divert to the nearest airport, Minsk".
The flight path, visible on the Flightradar24 website, suggests the plane was actually nearer to Vilnius than Minsk when it turned.
Ryanair said checks in Minsk found "nothing untoward" and the aircraft was cleared to depart, leaving Minsk at 20:50 local time.
"Ryanair has notified the relevant national and European safety and security agencies and we apologise sincerely to all affected passengers for this regrettable delay which was outside Ryanair's control," it added.
The Ryanair statement made no mention of Mr Protasevich.
Nexta was the first to break the news of his arrest.
Nexta editor-in-chief, Tadeusz Giczan, tweeted a quote from a passenger on the plane who said that Mr Protasevich had told them who he was once they were on the ground at Minsk, with him adding "they'll execute me here".
Belta, the state-owned news agency in Belarus, said Mr Lukashenko had personally given the order for the plane to land in Minsk following the bomb alert, and approved despatching the MiG-29 fighter jet.
It has been angry and it is growing.
Der Ex-Herausgeber der Nexta-Gruppe, Roman Protasevich, wurde festgenommen, bevor das Flugzeug seinen Flug wieder aufnehmen durfte.

Belarussische Medien sagten, eine MiG-29 habe den Jet wegen eines Bombenangstes nach Minsk eskortiert, aber es wurden keine Sprengstoffe gefunden.

Das Flugzeug landete schließlich in der litauischen Hauptstadt Vilnius, seinem ursprünglichen Ziel, um 21:25 Uhr Ortszeit (18:25 GMT), mehr als sieben Stunden nach seiner geplanten Ankunft.

Ankommende Passagiere sagten, die Situation in Minsk sei ruhig gewesen, aber sie hätten keine Informationen erhalten. Einer sagte, Herr Protasevich sah "super verängstigt aus. Ich sah ihm direkt in die Augen und es war sehr traurig"

Die EU und die Nato wurden bereits aufgefordert, einzugreifen.

Der britische Außenminister Dominic Raab warnte davor, dass die "ausgefallene Aktion" "schwerwiegende Folgen" haben würde.

Die belarussische Oppositionsführerin Svetlana Tikhanovskaya, die im vergangenen Jahr in Präsidentschaftswahlen von Alexander Lukaschenko geschlagen wurde und als manipuliert denunziert wurde, gehörte zu denjenigen, die die Freilassung von Herrn Protasevich forderten.

Seit der Wahl im August ist der 66-jährige Lukaschenko, der das Land seit 1994 regiert, gegen abweichende Stimmen vorgegangen. Viele Oppositionelle wurden festgenommen oder sind wie Frau Tikhanovskaya ins Exil geflohen.

Flug FR4978 war auf dem Weg von Athen nach Vilnius, als er kurz vor Erreichen der litauischen Grenze nach Osten nach Minsk abbog.

In einer Erklärung sagte Ryanair, dass die Besatzung "von Belarus (Flugsicherung) über eine potenzielle Sicherheitsbedrohung an Bord informiert und angewiesen wurde, zum nächstgelegenen Flughafen, Minsk, umzuleiten".

Der auf der Flightradar24-Website sichtbare Flugweg deutet darauf hin, dass sich das Flugzeug tatsächlich näher befand Vilnius als Minsk, als es sich drehte.

Ryanair sagte, dass Checks in Minsk "nichts Ungewöhnliches" ergaben und das Flugzeug für den Abflug freigegeben wurde und Minsk um 20:50 Uhr Ortszeit verließ.

"Ryanair hat die zuständigen nationalen und europäischen Sicherheitsbehörden benachrichtigt, und wir entschuldigen uns bei allen betroffenen Passagieren aufrichtig für diese bedauerliche Verzögerung, die außerhalb der Kontrolle von Ryanair lag."

In der Ryanair-Erklärung wurde Herr Protasevich nicht erwähnt.

Nexta war der erste, der die Nachricht über seine Verhaftung verbreitete.

Nexta-Chefredakteur Tadeusz Giczan twitterte ein Zitat eines Passagiers im Flugzeug, der sagte, Herr Protasevich habe ihnen gesagt, wer er sei, als sie in Minsk vor Ort waren, und fügte hinzu: "Sie werden hingerichtet." Ich hier ".

Belta, die staatliche Nachrichtenagentur in Belarus, sagte, Herr Lukaschenko habe persönlich den Befehl erteilt, das Flugzeug nach dem Bombenalarm in Minsk zu landen und den Versand des MiG-29-Kampfflugzeugs genehmigt.

Es war wütend und wächst.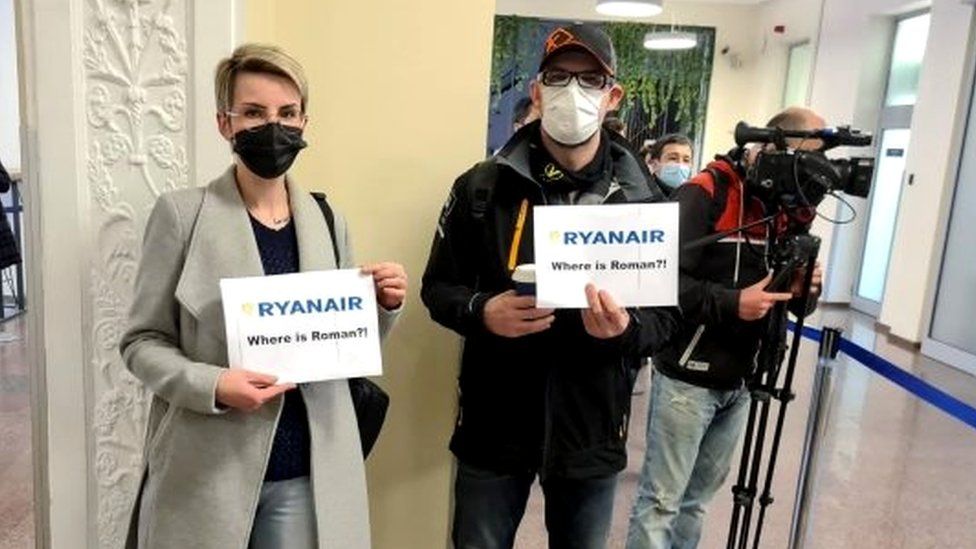 The US ambassador to Belarus, Julie Fisher, tweeted that it was "abhorrent" Mr Lukashenko had faked a bomb threat and sent fighter jets to arrest a journalist.
Lukashenka and his regime today showed again its contempt for international community and its citizens. Faking a bomb threat and sending MiG-29s to force @RyanAir to Minsk in order to arrest a @Nexta journalist on politically motivated charges is dangerous and abhorrent.— Julie Fisher (@USAmbBelarus) May 23, 2021
View original tweet on Twitter
European Council chairman Charles Michel said EU leaders would discuss "this unprecedented incident" on Monday at a Council summit and it would not "remain without consequences".
Nato Secretary General Jens Stoltenberg said this was a "serious and dangerous incident".
Die US-Botschafterin in Weißrussland, Julie Fisher, twitterte, es sei "abscheulich". Herr Lukaschenko habe eine Bombengefahr vorgetäuscht und Kampfjets geschickt, um einen Journalisten zu verhaften.

Lukaschenka und sein Regime zeigten heute erneut ihre Verachtung für die internationale Gemeinschaft und ihre Bürger = "https://twitter.com/Ryanair?ref_src=twsrc%5Etfw"> @RyanAir nach Minsk, um einen @ Nexta Journalistin über politisch motivierte Anschuldigungen ist gefährlich und abscheulich. – Julie Fisher (@USAmbBelarus) 23. Mai 2021


Original-Tweet auf Twitter anzeigen


Der Vorsitzende des Europäischen Rates, Charles Michel, sagte, die Staats- und Regierungschefs der EU würden "diesen beispiellosen Vorfall" am Montag auf einem Gipfeltreffen des Rates erörtern und nicht "ohne Konsequenzen agieren".


Nato-Generalsekretär Jens Stoltenberg sagte, dies sei ein "schwerwiegender und gefährlicher Vorfall".

Roman Protasevich
Both Latvia and Lithuania said the airspace over Belarus should be recognised as unsafe, with Latvia's Foreign Minister Edgars Rinkevics saying it should be closed to all international flights.
The UN's agency for civil aviation, ICAO, said it was concerned about an "apparent forced landing" which could be "in contravention of the Chicago Convention" which sets out the rules on airspace and aircraft safety.
Poland's Prime Minister Mateusz Morawiecki said: "Hijacking a civilian plane is an unprecedented act of state terrorism that cannot go unpunished."
We do not yet know the full details of this story but its implications could be huge.
There are questions about freedom of the air: how vulnerable may other flights be to this kind of behaviour? Some are already calling it an act of aggression or state terrorism, a form of hijacking. In how much danger were the passengers placed? What precedent may be set? Should flights be diverted away from Belarus airspace?
There are questions for international law: to what extent was this act unlawful, as many presume, and if so, what consequences should there be? There are questions about freedom of speech: will critics of other authoritarian regimes fear this could happen to them?
Sowohl Lettland als auch Litauen sagten, der Luftraum über Weißrussland sollte als unsicher anerkannt werden, und Lettlands Außenminister Edgars Rinkevics sagte, er sollte für alle internationalen Flüge gesperrt werden.

Die UN-Agentur für Zivilluftfahrt, ICAO, sagte, sie sei besorgt über eine "offensichtliche Notlandung", die "gegen das Chicagoer Übereinkommen" verstoßen könnte, das die Regeln für den Luftraum und die Sicherheit von Flugzeugen festlegt.

Polens Premierminister Mateusz Morawiecki sagte: "Die Entführung eines Zivilflugzeugs ist ein beispielloser Akt des Staatsterrorismus, der nicht ungestraft bleiben kann."

Wir kennen noch nicht alle Details dieser Geschichte, aber ihre Auswirkungen könnten enorm sein.

Es gibt Fragen zur Luftfreiheit: Wie anfällig können andere Flüge für diese Art von Verhalten sein? Einige nennen es bereits einen Akt der Aggression oder des Staatsterrorismus, eine Form der Entführung. In welche Gefahr wurden die Passagiere gebracht? Welcher Präzedenzfall kann gesetzt werden? Sollten Flüge vom Belarussischen Luftraum weggeleitet werden?

Es gibt Fragen zum Völkerrecht: Inwieweit war diese Handlung rechtswidrig, wie viele vermuten, und wenn ja, welche Konsequenzen sollte dies haben? Es gibt Fragen zur Meinungsfreiheit: Werden Kritiker anderer autoritärer Regime befürchten, dass ihnen dies passieren könnte?

And there are questions for international diplomacy. Political figures across Europe have already called for the EU and Nato to intervene. There are demands for further sanctions to be imposed on the government of Belarus, whose legitimacy is questioned by many in the West after disputed elections last year. President Lukashenko is often described as Europe's last dictator. Will the word "pirate" now be added to his list of titles?
Nexta is a media operation with a Telegram channel, and has visibility on Twitter and YouTube.
It played a key role for the Belarus opposition during the election and has continued to so in its aftermath, particularly with the government imposing news blackouts.
Und es gibt Fragen zur internationalen Diplomatie. Politische Persönlichkeiten in ganz Europa haben bereits die EU und die Nato aufgefordert, einzugreifen. Es gibt Forderungen nach weiteren Sanktionen gegen die Belarussische Regierung, deren Legitimität nach umstrittenen Wahlen im vergangenen Jahr von vielen im Westen in Frage gestellt wird. Präsident Lukaschenko wird oft als Europas letzter Diktator bezeichnet. Wird das Wort "Pirat" jetzt zu seiner Titelliste hinzugefügt?

Nexta ist eine Medienoperation mit einem Telegrammkanal und ist auf Twitter und YouTube vertreten.

Sie spielte während der Wahlen eine Schlüsselrolle für die Belarussische Opposition und hat dies auch in der Folge fortgesetzt, insbesondere weil die Regierung Nachrichtensperren verhängt hat.

Ms Tikhanovskaya said Mr Protasevich, 26, had left Belarus in 2019 and covered the events of the 2020 presidential election with Nexta, after which criminal charges were filed against him in Belarus.
She said he faced the death penalty in Belarus as he has been categorised as a terrorist.
Frau Tikhanovskaya sagte, der 26-jährige Protasevich habe Belarus 2019 verlassen und mit Nexta über die Ereignisse der Präsidentschaftswahlen 2020 berichtet. Danach wurden in Belarus Strafanzeigen gegen ihn erhoben.

Sie sagte, er stehe in Belarus vor der Todesstrafe, da er als Terrorist eingestuft wurde.

Western leaders have backed Ms Tikhanovskaya, who claimed victory in the election before she was forced to leave for Lithuania. She had become a candidate after her husband was jailed and barred from running.
Tens of thousands of protesters thronged the capital Minsk for months last year, furious at Mr Lukashenko's declaration of victory. There have been numerous cases of police brutality and some 2,700 prosecutions this year alone.
Westliche Führer haben Frau Tikhanovskaya unterstützt, die den Wahlsieg errungen hat, bevor sie gezwungen war, nach Litauen abzureisen. Sie war eine Kandidatin geworden, nachdem ihr Mann eingesperrt und von der Kandidatur ausgeschlossen worden war.

Zehntausende Demonstranten drängten sich im vergangenen Jahr monatelang in der Hauptstadt Minsk, wütend über die Siegeserklärung von Herrn Lukaschenko. Allein in diesem Jahr gab es zahlreiche Fälle von Polizeibrutalität und rund 2.700 Strafverfolgungsmaßnahmen.

Become a Patron!
True Information is the most valuable resource and we ask you to give back