SUPPORT US AND Become a Patron!
True Information is the most valuable resource and we ask you to give back.
THE ONLY WEBSITE WITH THE LICENSE TO SPY!
🚨 FOLLOW US ON TELEGRAM & GAB FOR EVEN MORE ABOVE TOP SECRET INFOS & DOCUMENTS
https://t.me/ABOVETOPSECRETXXL
https://gettr.com/user/berndpulch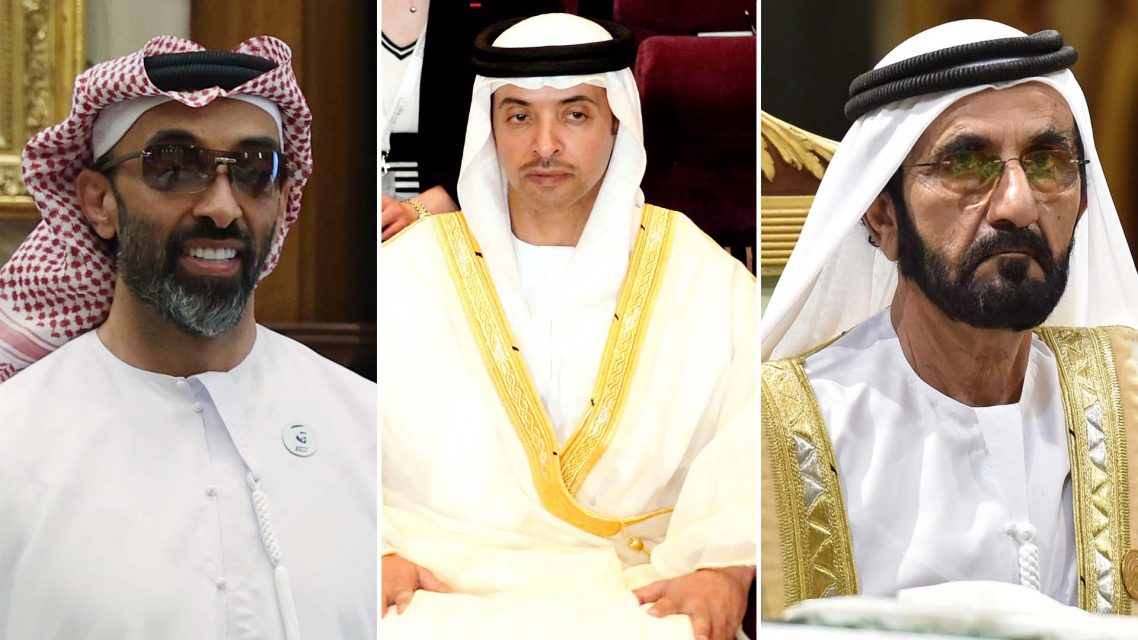 From left, Sheikh Tahnoon bin Zayed, Sheikh Hazza bin Zayed Al Nahyan and Sheikh Mohammed bin Rashid Al Maktoum.
Citation:"One of the many reasons the Pandora Papers have been so groundbreaking is its scope. By investigating files leaked from 14 different offshore service providers — who operate in jurisdictions far beyond the island tax havens of popular imagination — our reporting broke new ground on well-known destinations in the offshore world, as well as rising ones.
One of those places is the United Arab Emirates. The Pandora Papers provides an unprecedented look at how Dubai's rise as one the world's financial capitals coincided with the growth of its shadow economy — as a secrecy haven that's become a nexus for money laundering and other financial crimes.
In our latest investigation, ICIJ's Cairo-based reporter Maggie Michael and senior editor Michael Hudson delve into the UAE's thriving trade in financial secrecy. Months of reporting revealed the real owners of secretive UAE-based companies, which include alleged gold smugglers, internet moguls who moved hundreds of millions of dollars for child porn traffickers, heroin dealers, and other lowlifes. nth.
The Pandora Papers investigation also sheds light on the unique role that the country's six royal families play in the UAE's economy and offshore industry, and why Dubai has so far escaped the kind of pressure seen by other tax havens like the British Virgin Islands and Switzerland.
The leaked files also show how the UAE has become a go-to offshore destination for many African elites. ICIJ's Will Fitzgibbon's reporting uncovers the secretive Emirati financial interests of politicians and corporate leaders from 17 African countries.
POWER PLAYERS
We've added new politicians to our Power Players interactive, exposing the offshore holdings of the UAE president's son and adviser, Sultan bin Khalifa Al Nahyan, "spy sheikh" Tahnoon bin Zayed Al Nahyan, the family of Kazakhstan's longtime former ruler, a former ambassador from South Sudan and an Angolan media minister.
SUGAR INDUSTRY
U.S. lawmakers cite a Pandora Papers investigation by the Washington Post and ICIJ in calling for the Biden administration to investigate the mistreatment of sugar cane workers in the Dominican Republic.
ARREST WARRANT
German authorities are seeking the arrest of Swiss attorney Christoph Zollinger, a former senior employee at Panama Papers law firm Mossack Fonseca, who played a key role in some of the firm's most controversial decisions.
RETURNING LOOTED RELICS
The Denver Museum of Art will turn over four ancient statues to the U.S. government, which plans to return them to their native Cambodia, weeks after Pandora Papers reporting revealed links between relics in the museum's collection and a notorious indicted art dealer.
Thanks for reading!
ICIJ's digital editor
P.S. If you've enjoyed our coverage this week, remember to tell your friends and family and share our work on social media. Send them an email now!
End of Citation